Atlantic Rain Forest Train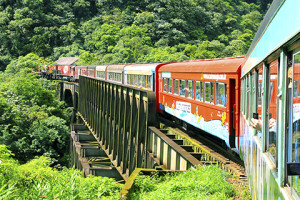 Considered the most beautiful railroad in Brazil, this century-old railway crosses the Atlantic forest between Curitiba and Morretes with unbelievable panoramic views from rainforest like Cachoeira Véu da Noiva, São João´s Bridge, Viaduto Carvalho etc.
When arrival in Morretes, a wonderful tipical lunch with Barreado is waiting for us.
The Atlantic Rain Forest Train of Paraná departs from the city of Curitiba to Morretes everyday. The trip takes approximately 3 hours.
INCLUDES:
Transfer from hotel to railroad station
• Train ticket Curitiba/Morretes executive class
• Box Lunch
• Typical lunch in Morretes with Barreado, fish and shrimps (without beverages)
• City tour in Morretes and Antonina
• Return to Curitiba by van
• Tour guide
PRICE PER PERSON:
ADULT: U$ 95,00
CHILD (6-12 years): U$ 66,00
CHILD (4-5 years): U$ 21,00