Travels to Brazil Bonito – Pantanal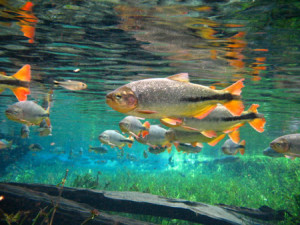 Travel Package Include
03 nights accomodation in Bonito – Bonito Hotel
Transfers Campo Grande / Bonito / Campo Grande
Boat ride in Rio Formoso
Tour Resort Mimosa with lunch
Visit the Blue Lake Cave
Travel insurance
Day 1 – Campo Grande – Bonito
Arrival in Campo Grande (receptive) and transfer to Bonito, check in at hotel, rest of day free for sightseeing and shopping center.
Day 2 – Bonito
After breakfast, tour in Bote in Rio Formoso. Lunch at the São Geraldo Farm and in the afternoon floating in the Rio Anaconda. Return to hotel and free evening.
Day 3 – Bonito
Mimosa Resort Ride with lunch (with waterfall trail). Return to the hotel in the afternoon. Evening free.
Day 4 – Bonito / Campo Grande
After breakfast check out of the hotel, visit the Blue Lake Cave and return to Campo Grande airport.